Wellcome to Villa Marina Divcibare
Villa "Marina" is located in the most beautiful part of Divcibare. It was built in 2009. by the latest standards of construction of facilities for accommodation. Villa offers modern rooms and apartments, capacity from 2 to 6 people with free Wi-Fi and cable TV.
It lies only 200 meters away from the centre of Divcibare, on the "Marinkovic" hillside, in the immediate vicinity of ski tracks and pedestrian zones. Villa "Marina "and Divcibare are ideal for families with children, individual travellers or groups, to all nature lovers and to all those who already know or are willing to discover benefits of the mountain air to one's health.
Visit us and the staff of Villa "Marina" will make your holiday an unforgettable experience!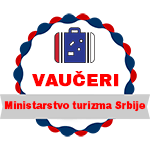 New! New! New! At Villa "Marina" you may use vouchers of Ministry of Tourism in the amount of 5.000 RSD for your holiday in Serbia. Please find further information about conditions and procedure for acquiring vouchers at the following link. If you want to print our poster and publish it on the notice board in your organization or company, click here to download it (A3 format, 32Mb).
Click here to download the application form to acquire voucher.
Click here to download the recommended form – confirmation of employment and earnings (this form should be filled by your employer).